Raw Unfiltered Honey
Zeigler's Honey Company has been producing the finest unfiltered honey in Stockton, GA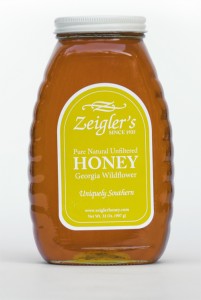 since 1935.  Raw honey is honey that has not been pasteurized or finely filtered.  We coarse filter our honey to remove large debris, but do not fine filter our honey.
Since heating honey can destroy enzymes and nutrients, raw honey contains more of these beneficial components.  Pro-biotic bacteria can also be found in raw, unfiltered honey; these good bacteria can colonize the intestinal tract and protect the body from invasion by harmful bacteria. Certain beneficial antioxidants are also present in higher levels in raw, unfiltered honey than in processed honey.
Raw and unfiltered honey might crystallize; this does not impair the taste or quality of the honey, only its appearance and consistency.  If you prefer a liquid consistency, gentle heating in hot water and stirring can eliminate any crystals.
Gallberry Honey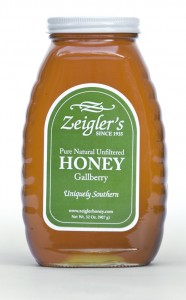 The Gallberry bush is found mainly in the slash pine forests and swamps of South Georgia and parts of North Florida, giving Gallberry honey a "uniquely southern" taste.   Gallberry honey is admired for its unique, mildly tangy flavor.  Gallberry honey is also desirable for its medicinal properties and it can serve as a substitute for sugar in recipes.
Orange Blossom Honey
Orange Blossom honey is the product of a partnership between beekeepers and orange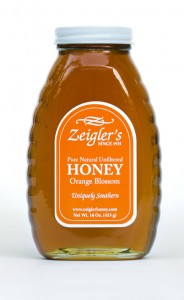 growers.  The growers want the highest possible production in their groves, whereas the beekeepers want an early spring crop to build up strong hives for the upcoming pollination season.  Orange Blossom honey has a mild citrus aftertaste that varies somewhat from year to year and according to the variety of orange grown.  It is particularly prized as a flavorful sweetener for recipes, tea and glazes.